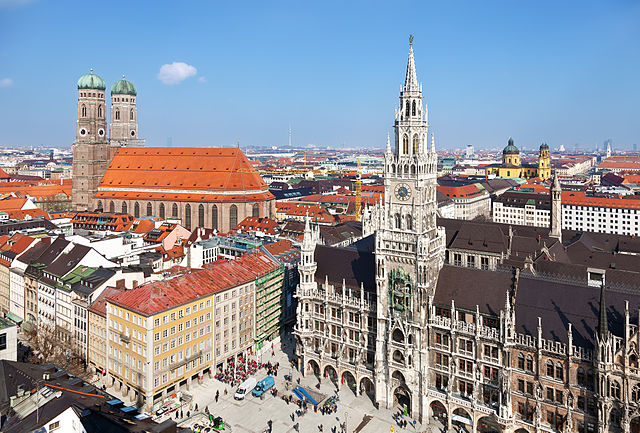 My hometown, the Bavarian state capital Munich (in german München) is always worth a visit.
Oktoberfest, Allianzarena, Schloss Nymphenburg, Deutsches Museum, Alte and Neue Pinakothek as well as the Pinakotek der Moderne, the Olympic site with the Olympic tower, the Residence with the Bavarian State Opera and the Philharmonic, Schwabing and English Garden. These are just some of the highlights of a visit to Munich.
But it is not always easy for celiac patients to stick to the strict gluten-free diet, especially when on holiday or on business trips.
Reason enough to take a closer look at the gluten-free offer in Munich.
Hotels
In and around Munich there are a whole series of hotels that have adapted to allergy sufferers and offer at least a gluten-free breakfast:
The English-language GlutenFreeHotelsGuide website even lists 50 hotels in Munich where gluten-free bread is available on request.
This is my first article written in English. So: I'm sure I made a ton of typos and grammar mistakes. Blogging in English is difficult for me, as a nonnative English speaker. Extremely difficult! It's a nightmare sometimes because often I feel I can't express myself the way I want to. Anyway, feel free to correct me.
Restaurants
A number of Munich restaurants offer gluten-free cuisine. Usually, the gluten-free dishes are specially marked on the menu.
A classic of Sicilian cuisine is the Ristorante Limoncello in Verdistraße 92 (slightly out of town in Pasing-Obermenzing). Almost the entire menu is also available gluten-free. Antipasti, pizza and pasta, meat and fish and desserts like tiramisù! All meals are always freshly prepared, so sometimes there may be longer waiting times. A separate workplace for pizza, pasta and desserts and a separate oven are available to prevent contamination as far as possible. If you know the address: The Ristorante Limoncello is located in the rooms of the former Ristorante il Salento. Completely renovated at the end of 2015, however, it will now appear much more sophisticated and stylish.
I haven't been there myself for a long time, as the restaurant is a few kilometers outside the city on the arterial road to the Stuttgart Highway A8.
The Locanda Busento, Fürstenrieder Straße 277 in Sendling also offers Italian cuisine. All pizzas can also be ordered as gluten-free variant. However, a ready-made base is probably used that is smaller than the "normal" pizzas. Gluten-free pasta is also available.
NEW in the list is the Pizzeria Insieme at Bahnhofstraße 5, Planegg, a suburb of Munich. You can choose from the full range: gluten-free pizza with homemade dough, various pasta dishes, tiramisu and gluten-free beer. This should leave nothing to be desired.
Personal conclusion: Unfortunately I haven't been to eat at Insieme myself yet. However, the assessments of tripadvisor or gluten-free roads, for example, give us reason to expect the best.
Last but not least the Pizzesco, quite centrally located at Rosenheimer Berg (Rosenheimerstr. 12, Haidhausen) close to the S-Bahn, the Gasteig and the Deutsches Museum. Gluten-free pizza and gluten-free desserts such as tiramisu.
Personal conclusion: An Italian Restaurant like from a picture book. Loud, full and yet somehow comfortable. The gluten-free pizza is really delicious. The gluten-containing variants from spelt or kamuth, on the other hand, seem to take some getting used to.
The Gasthof Obermaier near the new Munich Trade Fair Center is a traditional Bavarian restaurant (Truderinger Straße 306, Trudering). A surcharge of 1,– Euro is charged for each main course prepared gluten-free. But it's worth it. Some of you may also know the Gasthof Obermaier from the annual summer festivals at the Querfood online shop in Putzbrunn. The restaurant is always full in the evening. In the adjoining rooms often also family celebrations. Reservation is highly recommended.
Personal conclusion: A traditional Bavarian restaurant with its own butcher's shop and over 150 years of history – that must be good. My absolute favourite is the gluten-free Wiener schnitzel with fried potatoes. And a gluten-free beer from Schnitzer. And finally the gluten-free Kaiserschmarrn – then you are really more than full and take the rest of the Kaiserschmarrn home in a doggy bag for the next day.
The name says it all: Vegelangelo in the Old Town of Munich on Thomas-Wimmer-Ring 16 offers vegetarian and vegan Cuisine. A whole range of dishes are gluten-free by nature or can be prepared freshly gluten-free on request. Friday and Saturday only menu! As the restaurant is not very large, it is strongly recommended to book in advance.
Other restaurants:
Belicious Burger
Gluten-free burgers with freely selectable ingredients and daily freshly baked gluten-free bread – Pariser Straße 34, Munich Haidhausen
— Closed since 01.01.2017 —
Berni's Nudelbrett
Unfortunately only one type of gluten-free pasta with three or four sauces, but very centrally located between Marienplatz and Viktualienmarkt – Petersplatz 8, Munich Old Town
dean & david – Fast food freshly made – 15x in Munich
Gasthof Groß – Bavarian, outside in Bergkirchen near Dachau
Gratitude
Everything vegan, everything glutenfree – Türkenstr. 55, 80799 Munich Maxvorstadt
Isardoro
NEW – tip from our reader Antonia
The Isardoro offers sophisticated Italian cuisine (no pizza). Already on the website, it is pointed out that one is equipped for food intolerances and gluten-free and lactose-free dishes are offered.
Ismaninger Str. 48, 81675 Munich, Bogenhausen near Friedensengel
Kaimug – Thai cuisine – 4x in Munich and 1x in the sauna paradise Erding
Klinglwirt
Traditional Bavarian restaurant. On the menu and the website you will find the information that gluten-free, lactose-free, fructose-free or low-histamine dishes can be prepared on request – Balanstraße 16, 81669 Munich.
La Mucca Pazza
Italian restaurant. Gluten-free pasta and gluten-free bread, 1.50 extra charge for gluten-free Pizza – Alfonsstrasse 3, Munich Neuhausen
— meanwhile closed —
Mongo's – European-Asian cuisine, Oberanger 28, Munich Old Town
nero
Gluten-free pizza with the express remark "unsuitable for celiac disease because baked in the same oven as wheat pizza" – Rumfordstraße 34, Munich Isarvorstadt
Tassilo da Sebastiano
NEW – tip from our reader Antonia
Award-winning and established in Munich for 30 years: That speaks for itself. Unfortunately, there is no reference to gluten-free dishes on the website. I will verify it on occasion.
Balanstraße 34, 81669 Munich Haidhausen
Vapiano
Since 2016 Vapiano finally offers gluten-free pizza and pasta. 4x in Munich, for example in the Fünf Höfe between Marienplatz and Odeonsplatz (Theatinerstraße 15) and at the central bus station ZOB (Hackerbrücke 4 ).
In addition, there are several restaurants in the city belonging to the two steakhouse chains Maredo and Block House. The gluten-free dishes are also shown separately on the menu.
As you can see, eating gluten-free in Munich is no Problem.
Unfortunately, however, there is a real competition and many restaurants disappear quite quickly again, so the GeKü (healthy cuisine) and the restaurant Waldfrieden. So make sure to ask in advance.
Gluten-free ice cream
As a rule, with a few exceptions (e.g. brownies or cookies), ice cream in cups should be gluten-free. Emphasis on 'should'… Unfortunately I didn't find that much information on the internet and on site.
Exception: Sarcletti in Nymphenburger Str. 155 (at Rotkreuzplatz in Neuhausen). The website contains detailed information on the most important allergens. About 90% of the types of ice cream are gluten-free there.
According to reports at the Zöliakie-Treff and in Schär's address list, you should have a good Chance at the organic ice cream parlour Gelato Bartu at Wilhelmstraße 23 in Schwabing.
I know, little information  for a city of over a million inhabitants. I'll stay tuned and will deal with the topic more intensively when the opportunity arises.
Intolerant Isi
Intolerant? That doesn't sound nice at first. In fact, Isi  – Isabella Hener – runs a food truck. At various locations in and around Munich, tasty food and beverages are offered that are, for example, wheat-free, gluten-free, milk-free, low in fructose or vegan. And also for private or company events you can book the intolerant Isi. In addition, there are special baking and cooking courses on the subject of food intolerances.
Tip: Viktualienmarkt
In the center of Munich, very close to Marienplatz, you will find the Viktualienmarkt with a huge range of fruit, vegetables and antipasti. Who likes raw food or eats vegan or vegetarian will certainly not be disappointed. And a few meters away, a Vitalia reform house (Rosental 7, 80331 Munich), a basic organic market (Westenriederstraße 35, 80331 Munich), a organic butcher, called Herrmannsdorfer  (Frauenstraße 6, 80469 Munich) and the Café Fräulein (Frauenstraße 11, 80469 Munich), a small café in vintage-look with delicious gluten-free chocolate cake, are situated. A gluten-free (snack) meal is therefore guaranteed.
Shopping
Fortunately, gluten-free products are now available in many larger supermarkets (especially Edeka and real) and drugstores (vast assortment at dm). Centrally located im Tal 23 – 25 near Marienplatz is the branch of the Drogeriemarkt Müller – where there is a huge selection of gluten-free products from Alnavit, Schär and the own brand BIO PRIMO. Similar the branch directly at the main railway station in Elisenhof. Nevertheless, organic markets and health food stores remain my first choice. Simply because of the much wider selection.
First of all the Vitalia health food stores with a good two dozen brances in Munich and the surrounding area. Centrally situated, for example in Schützenstraße near the main station, at Stachus (in the basement) and at Viktualienmarkt.
You can also find gluten-free Foods in the branches of the large organic market chains:
There are also a whole series of smaller health food shops and organic markets.
Tip: Fresh gluten-free bread
A special feature in Munich and the surrounding area is the Fritz Mühlenbäckerei with an almost inexhaustible range of gluten-free breads and gluten-free pastries in the best organic quality.
Eight types of gluten-free (and lactose-free) bread are freshly baked daily:
Farmers Bread
Corn Millet
Quinoa Amaranth
Rice raisins
Seed bread
Potato bread
Sunflower Teff
Oat bread (due to gluten-free oats without gluten-free logo)
The products are available in the bakery sales in Aying, in the own shop Cafe Bäckerei Fritz in the Rablstraße 38 (Haidhausen, near Rosenheimer Platz) as well as in almost all organic markets.
With a little luck, fresh bread from Bettinas Keimbackstube (also from Munich) and Schubert (from Augsburg) is also available in many organic shops. Both in Demeter quality.
Celebrations
On the original Munich Oktoberfest there are almost no 'gluten-free' food. The only exception: Monika Filser's Feinkoststandl (Matthias Pschorr-Straße 11, directly opposite the Käfer WiesnSchänke) sells gluten-free sausage and fish rolls (as of 2017), as well as her homemade gluten-free roast pork. The gluten-free rolls and pretzel sticks are supplied by "Resch&Frisch". Gluten-free beer is not available in any tent.
The gluten-free Oktoberfest of the German Celiac Society takes place every two years parallel to the Oktoberfest on Theresienwiese under the motto "O zapft is, aber glutenfrei".
Date for 2019:
Saturday, September 21, 2019: Admission is 10 euros for adults and young people aged 15 and over. Children and adolescents up to and including 14 years are free. A binding registration is required in any case. The exact programme is not yet known.
Shipping and warehouse sales
With Querfood one of the most important online shop for gluten-free products has settled in the Munich region (Wernher-von-Braun-Straße 5, 85640 Putzbrunn). There are more than 2,300 gluten-free foods available at the in-house warehouse sale. In addition, a large gluten-free summer festival is celebrated once a year. Another online shop with stock sale is Glutenfrei genießen (Am Bahnsteig 9, 82024 Taufkirchen).
In the surrounding
And also in the closer and further surroundings of Munich there are interesting shopping possibilities and restaurants. For example the bakery Miedl in Bad Endorf. There are various types of gluten-free bread, gluten-free rolls, muffins and cookies. Or the Gourmet-Ecke in Grafing, a snack with gluten-free treats to take away.
Last but not least: A request to the cook
If you are not sure, you can use the german translation of the request to the cook. Here you find the full text (english and german).